Custom Car Shape Air
Dancers® Inflatable Tube Man
Regular price

Sale price

$229.95

Unit price

per
)
Product Info
The Custom Car Shape Air Dancers® Inflatable Tube Man by LookOurWay will help DRIVE the extra attention that you are looking for. The arm waving tube man will stand out from the rest with it fun car shape built into the lower half of the inflatable. Perfect for Car Wash, Tint Shops, Auto Shop, Mechanics, Parking Lots etc.
The fully customizable Air Dancers are made of high-quality materials for durability and use full digital printing to help your logo or message display clearly.
Not sure how to best design your wacky waving inflatable tube man? Our talented design team can help create a custom mockup. No matter what option you choose, our design team will send a mock-up design of your Air Dancers® tube man for approval. 

Weight: 2 lb
Resources
Return Policy
Please check out the complete return policy here
Warranty Info
Please check out the complete warranty policy here
Shipping Info
Ships to all 48 U.S. contiguous states
Please contact us for shipping to Hawaii, Alaska or internationa
Maintenance Info
Do not expose to harsh weather conditions (storms, high winds, etc.)
Make sure to store away properly when not in use
Specifications Info
Air Dancers® Material: High Strength Polyamide-Nylon Silk
15ft

Assembled on Blower Height: 17ft

Fits the 18" diameter LookOurWay blower. 

10ft
Assembled on Blower Height: 12ft

Fits the 12" diameter LookOurWay blower. 

FAQ
What materials do we use for our Air Dancers® Inflatable Tube Men?
LookOurWay brand Air Dancers® are constructed with high-strength polyamide nylon silk with added tarpaulin. The added tarpaulin brings added flex properties that ensure a longer-lasting and more flexible rip-proof product. The special formula of air dancer material used by LookOurWay brand inflatables has been formulated by over 5 years of experimentation and constant improvement to our existing material. We publish the material make-up of our air dancers without fear of imposters because we know it's just too expensive for others to use. The material has been specially formulated for LookOurWay and no other company can create this high-quality material at a cost-effective rate. LookOurWay air dancers are simply the best value, best style, and best performance.
What is the life expectancy for our inflatable tube men?
Our Air Dancers® are made out of high-strength polyamide nylon silk with added tarpaulin. Lifetime expectancy depends on the environment and weather conditions. The majority of customers are getting 6 to 12 months out of an Air Dancer® before needing to be replaced.
How loud is an Air Dancers® blower?
All LookOurWay branded Air Dancer® Blowers are considered commercial grade and will be louder than a conventional inflatable product that you might purchase at a big box store. Please see our chart for each of our blowers' decibel ratings.
Reviews
Customer Reviews
Write a Review
Ask a Question
From start to finish the process was easy. The reps were helpful. The design came in quickly they worked up changes and did everything I asked. The process was simple and stress free. He arrived on schedule and everyone here LOVES it!! Thank you!
10/09/2022
Jack J.

United States
Top notch
The quality of the staff and product is priceless thank you for the one of a kind item and help getting it in a timely and affordable fashion! Will be referring you to all companies I know.
05/11/2022
Ted J.

United States
Parking Air Dancer
This thing is a real attention getter! Not only does it say PARKING down the front and back, but it also has an inflatable car at the bottom of the tube. Everybody has something to say about it when they walk by. It just can't be ignored. It wasn't cheap but it will pay for itself many times over.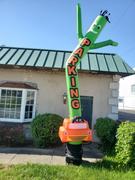 CUSTOMER SUBMITTED PHOTOS